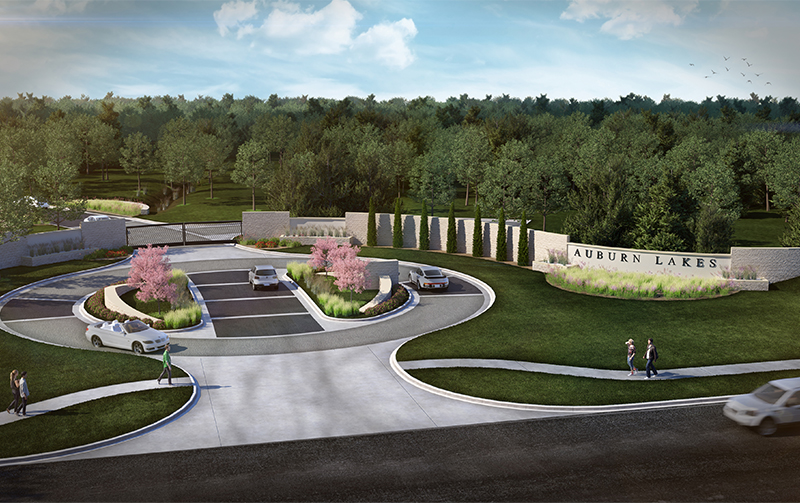 Luxury-Design in Harmony with Nature
July 1, 2019
One of Wichita's newest luxury residential developments, Auburn Lakes by Perfection Builders, presented us with some fascinating engineering challenges. This picturesque neighborhood, home to just 13 single-family, estate-sized lots, also includes five large lakes, trees and beautiful rolling terrain – a rarity on the Kansas plains. As our team began land planning for this $6M project, we encountered another uncommon sight: the Eastern spotted skunk (Spilogale putorius). From the beginning, a big part of our job was to ensure our design worked around this threatened species' natural habitat. To accomplish this, we are working closely with state Wildlife, Parks and Tourism officials to determine the most appropriate regulatory solution.
Another challenge our team faced was coordinating with a commercial developer that shares land bordering Auburn Lakes. We built a berm to serve as a buffer and screening between the two developments, adding both value and variety to lot options in the form of tree lines and lakes. In addition to collaborating with the commercial developer on utilities and site detention, we were even able to give them loads of soil from our site to aid in developing theirs.
The land on which Auburn Lakes was taking shape had been vacant for a very long time, and in fact, was the last to be developed in that area. For this reason, we had to be very purposeful about our design to not create any inconveniences for the residents and adjacent public golf course. Perched groundwater prevented us from digging too deeply, so our engineering solution was to add additional retention ponds. Still, we managed to enhance several ponds and drainage structures. We carefully identified all areas and trees we needed to preserve, leaving protected areas in their natural form. The end result offers homeowners a stunning retreat that is in harmony with nature.
Perfection Builders is a leader in home building in the Wichita area, recognized for innovation in design at affordable prices. The Auburn Lakes development consists of Auburn Lakes – a private, gated community with limited estate lots, one of which is home to the only private island in Wichita – and Courtyards at Auburn Lakes – a tranquil community that offers award-winning Epcon courtyard-style patio homes with provided exterior maintenance and exclusive amenities. For information about availability and pricing, give Perfection Builders a call at (316) 729-1900 or visit SeeAuburnLakes.com.