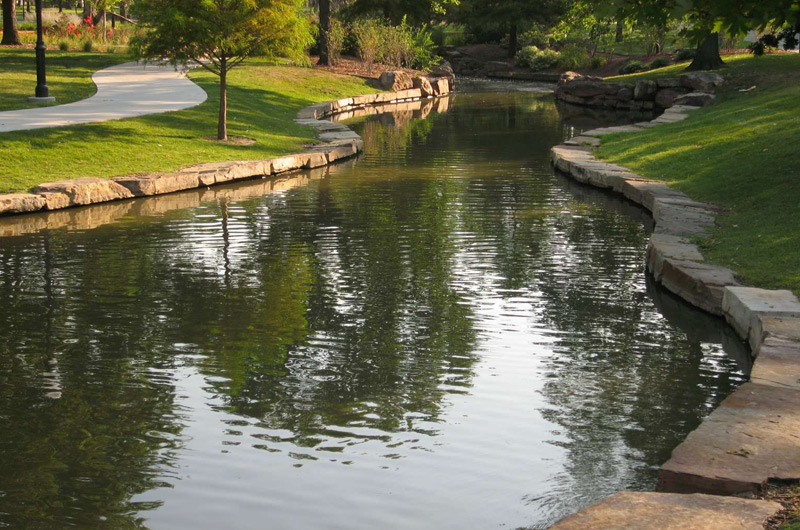 Eastborough Park / Kellogg Drive Buffer
April 18, 2017
Landscape Design to the Neighborhood Rescue
Engineering Challenges
Eastborough, envisioned as a quaint English village on the Kansas prairie and incorporated in the 1930s, soon was surrounded by the expanding city of Wichita. In the early 2000s, the need to make Kellogg Avenue a major freeway through the center of the metropolis required demolition of the row of homes abutting Kellogg on the southern border of Eastborough. In addition, Kellogg construction threatened to destroy a local icon – a picturesque pond that served as an attraction and gathering spot. We were engaged by the City of Eastborough to represent it through the Kellogg construction process, and to devise a plan to buffer the effects of a major throughway right up against the small enclave's southern border.
Engineering Success
We installed a 10-foot-high masonry wall to serve as the first line of defense against Kellogg traffic, then set to work designing a linear park in the space remaining from where the row of homes had been demolished. We reconfigured the pond – deepening it to improve aquatic life and water quality – and preserving its beloved Duck Island. To address the eroding upstream waterway, we installed a series of low dams, lining much of the water features with natural stone edgings. The resulting series of waterfalls provide a beautiful, bucolic setting and have the added advantage of providing noise masking for the constant traffic. Larger open spaces were used to create amenities such as a playground, open recreation area and a community pavilion and gazebo. The area now presents a focus for social activity, with walking paths and open spaces that tie the city together and promote a healthy, active lifestyle. The project demonstrates how landscape architecture uses innovative and creative ideas to craft sustainable, attractive solutions that benefit the neighborhood and the community at large.