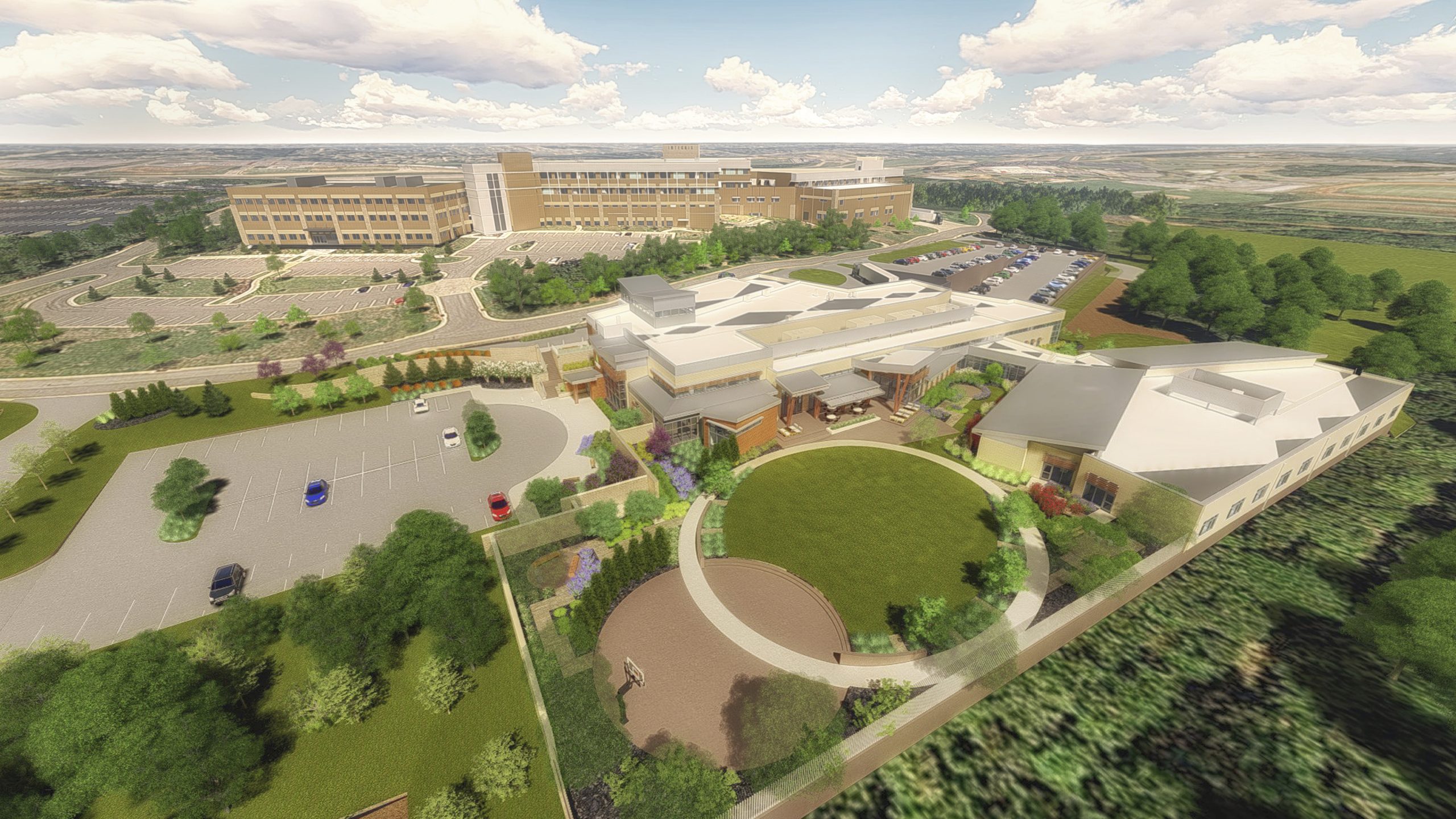 Healing by Design. Naturally.
March 5, 2020
At MKEC, part of our design philosophy is to begin with the end in mind. That includes careful planning and innovative thinking to ensure the best possible design, yes, but it also includes the people who will eventually interact with our designs.
So when Oklahoma's largest not-for-profit health care system, INTEGRIS, approached us for help expanding to Edmond, we knew the folks who would benefit from our work would come to this hospital to celebrate joyous milestones – and to face fear and uncertainty. From the beginning it was clear to us that we needed to focus on incorporating a natural, healing environment into all aspects of our design.
---
"Crafting a natural, healing environment was the top priority and factored into all aspects of the design process."
---
Preserving Natural Beauty
After the initial site selection and feasibility study for INTEGRIS's new hospital campus in 2007, we settled on a beautiful, wooded area. Although the hills and trees were part of the appeal, they also posed a challenge: how to preserve as much of this natural forested beauty as possible while allowing for future expansion. Our team was up to the task. Partnering with INTEGRIS and HKS Architects, we developed a site plan to save approximately three acres of trees.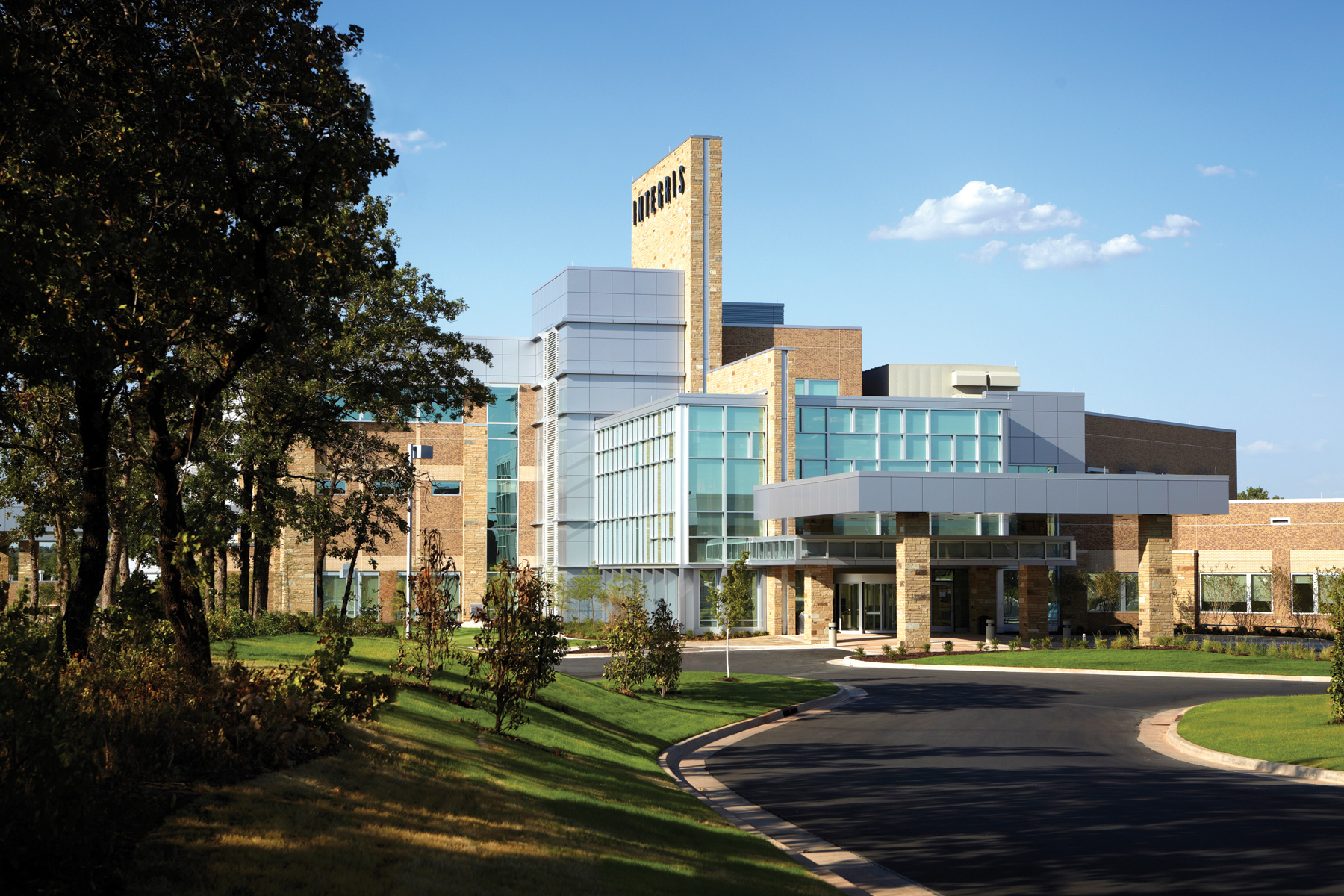 Another hurdle: the site's steep slopes meant we had to design a number of retaining walls. To create a more seamless, attractive solution, we identified a natural quarry block for construction. We took care to design the parking lots around existing trees, directing water runoff to nearby native prairie grasses and wildflowers, reducing the need for underground storm sewer.
Working closely with the City of Edmond, we reached a determination that on-site detention wouldn't be required because of the site's location within the Spring Creek drainage basin. This freed up more land for INTEGRIS's ever-expanding campus.
Growing Up and Out
Construction on the 40-bed hospital and an attached three-story medical office building wrapped up in 2011. INTEGRIS didn't let the dust settle, quickly moving into Phase 2 with the addition of a second three-story medical office building.
Intent on improving the health of the people and communities they serve, it wasn't long before INTEGRIS started eying another expansion. In 2016, we again partnered with the health system and HKS to add three new floors to the hospital, creating space to serve dozens more patients. In addition to yet another three-story facility, we designed more parking areas and a new helipad to accommodate injured and critically ill patients.
Providing Physical, Mental, and Spiritual Recovery
As part of this phase, we also helped design Arcadia Trails INTEGRIS Center for Addiction Recovery, a 60,000 square foot, state-of-the-art addiction recovery center. To promote an environment of peaceful healing, our design included a secure courtyard complete with decorative walks and hardscape plazas. Here, in the solace of nature, patients find the strength to face and overcome their addictions. Wrapped in the serenity of oak forests, Arcadia Trails "strikes the perfect balance between near and far, between nature and modern life … between lost and found."
Together with our longstanding partners at INTEGRIS and HKS Architects, our team helped transform 44 acres of woodland into one of the state's most unique and comprehensive hospital campuses. From beginning to end, we preserved and incorporated the natural landscape into our design – benefitting patients and their families for generations to come.