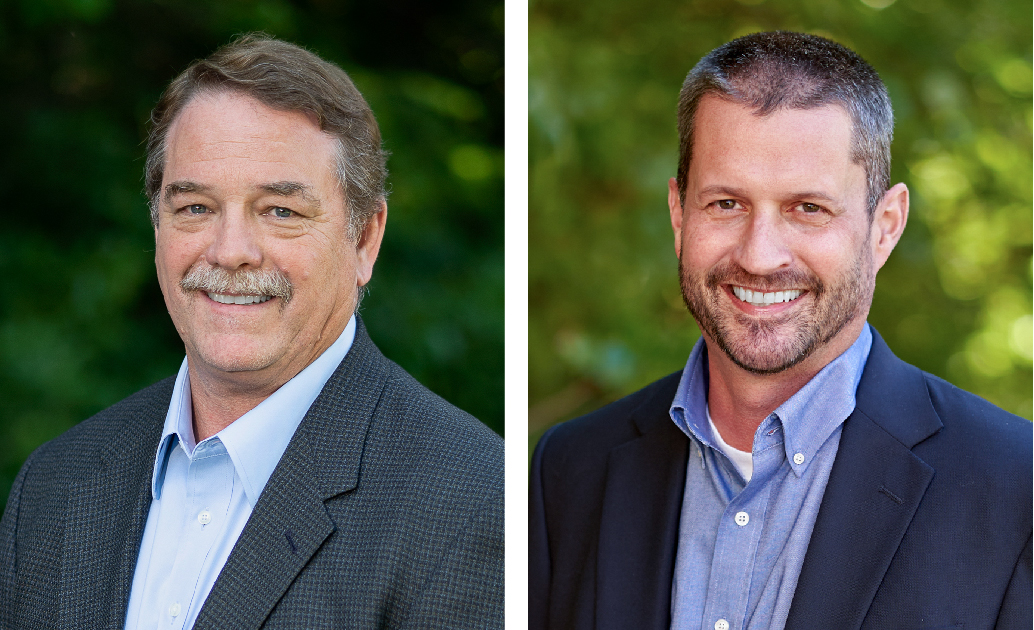 New Leadership Announced at MKEC Engineering
February 1, 2021
MKEC Engineering's Board of Directors has recently announced a change in corporate leadership.
Effective January 1st, 2021, Matt Bengtson (pictured right) has been appointed President of the company, taking over for Glen Nilsen (pictured left) who has served in that capacity since 2013. Bengtson, who has been serving as Executive Vice-President, commented on the transition, saying that although the decision was only recently made public, Nilsen had informed the Board of Directors of his intention to retire over a year ago. "We've had nearly 13 months of transition planning time. MKEC has experienced consistent growth over the years; we've been expanding into new markets and continued to partner with clients – old and new – weathering the challenges of the past year together. We have a great team and we serve great clients and communities from our campuses in Wichita, Kansas City and Oklahoma City. We remain grateful for the meaningful work we get to do every day and are excited about on-going opportunities."
In recent communication with the board of directors, the executive team and employees, Nilsen reflected on his 40 years in the consulting engineering industry, 30 of which have been spent at MKEC.
---
"I consider myself fortunate to have had the honor of working with hundreds of wonderful people at MKEC. It has been exciting and rewarding to be part of the growth our company has enjoyed over that time. We have assembled an impressive group of people, personally and professionally."

Glen Nilsen, former President since 2013
---
Nilsen also highlighted the significance of the work MKEC has been a part of during his tenure and his confidence in the continued growth of the firm. "The work has been challenging, rewarding, and a lot of fun – thousands of successful projects have helped improve the quality of life for our communities. I couldn't ask for more than to help build a business that has provided so many of us with the ability to support and grow our families. I'm confident that Matt and MKEC's Board will continue to provide the guidance and leadership that reflects the positive direction the company is heading." Although stepping back from day to day operational responsibilities, Nilsen plans to stay on in a consulting role through 2021.
Since its beginning in 1982, MKEC has worked to provide a full range of engineering services that are collaborative in nature. Bengtson says the company remains committed to the principles of its founding, "Our core commitments will continue; we value individual creativity and initiative, but at the end of the day, we operate as a team. We really do see our clients as an extension of our team and that includes an environment of trust, integrity, mutual respect, humility, and responsibility. We're grateful for the growth our company is experiencing and are excited about the projects that lie ahead."
Bengtson will lead a board of directors that includes Vice-Presidents Greg Allison, and Steve Adams; Treasurer Max Sutton; and Directors Glen Nilsen, Mark Buckingham, Greg Severns and Harley Alderson.
Read more about our talented team and our commitment to uncompromising quality in our work.