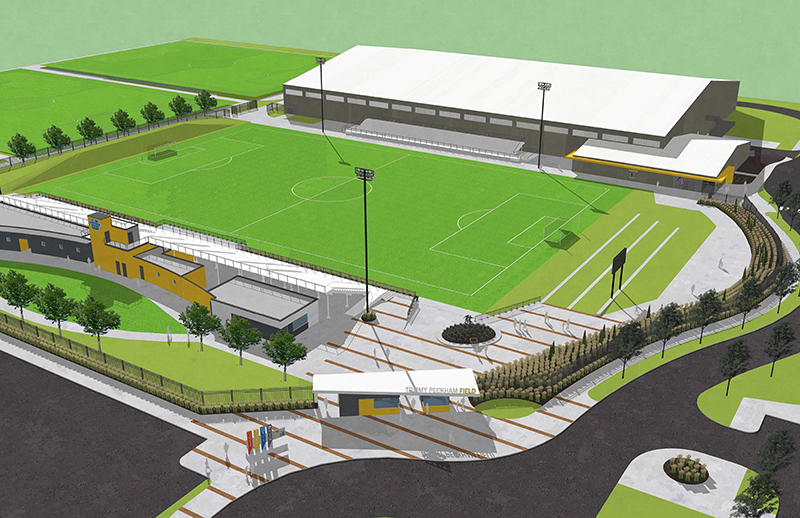 Destination Wichita: Stryker Multi-Sport Youth Complex
September 25, 2018
A Big Win for the Community
Wichita will soon be at the center of the nation's flourishing youth sports scene, thanks to the City's $22 million investment in upgrades to the Stryker Multi-Sport Youth Complex near K-96 and Greenwich. MKEC led master planning and design for this exciting project, which will serve as a significant economic driver and create a regional destination for youth soccer. When it reopens in January 2019, the City expects the revamped Stryker Complex to attract regional tournaments and tens of thousands of visitors from around the Midwest, pumping millions into the local economy. Officials anticipate the renovations will attract lacrosse, football, and rugby players as well.
Our design, developed on a fast-track schedule to meet the City's ambitious timeline, replaces grass fields with artificial turf, doubling the seating capacity at the championship field. New lighting means young athletes will experience the thrill of playing under the lights and will allow Stryker to host more games than before. To ease parking lot frustrations, fields are arranged in pods with their own lots, and an additional access road provides another option for entry and exit. Colorful new signage simplifies navigation once inside the complex.
A new state-of-the-art indoor facility boasts one full-size soccer field that can be configured into two multi-sport fields for athletes of all ages, plus locker rooms, an office area, and restrooms. Visitors will also enjoy a host of other updated amenities found throughout the complex – including concessions, renovated restrooms, as well as picnic tables and terrace seating for added spectator capacity – that blend seamlessly with the surroundings. Officials anticipate the renovations will attract lacrosse, football, and rugby players as well.
Together with our talented team of partners – DLR Group, GLMV Architecture, GSI Engineering, Dondlinger Construction, FSC, Inc., and Greteman Group – we are proud to play a leading role in Wichita's vibrant growth by helping make this "destination complex" a reality.