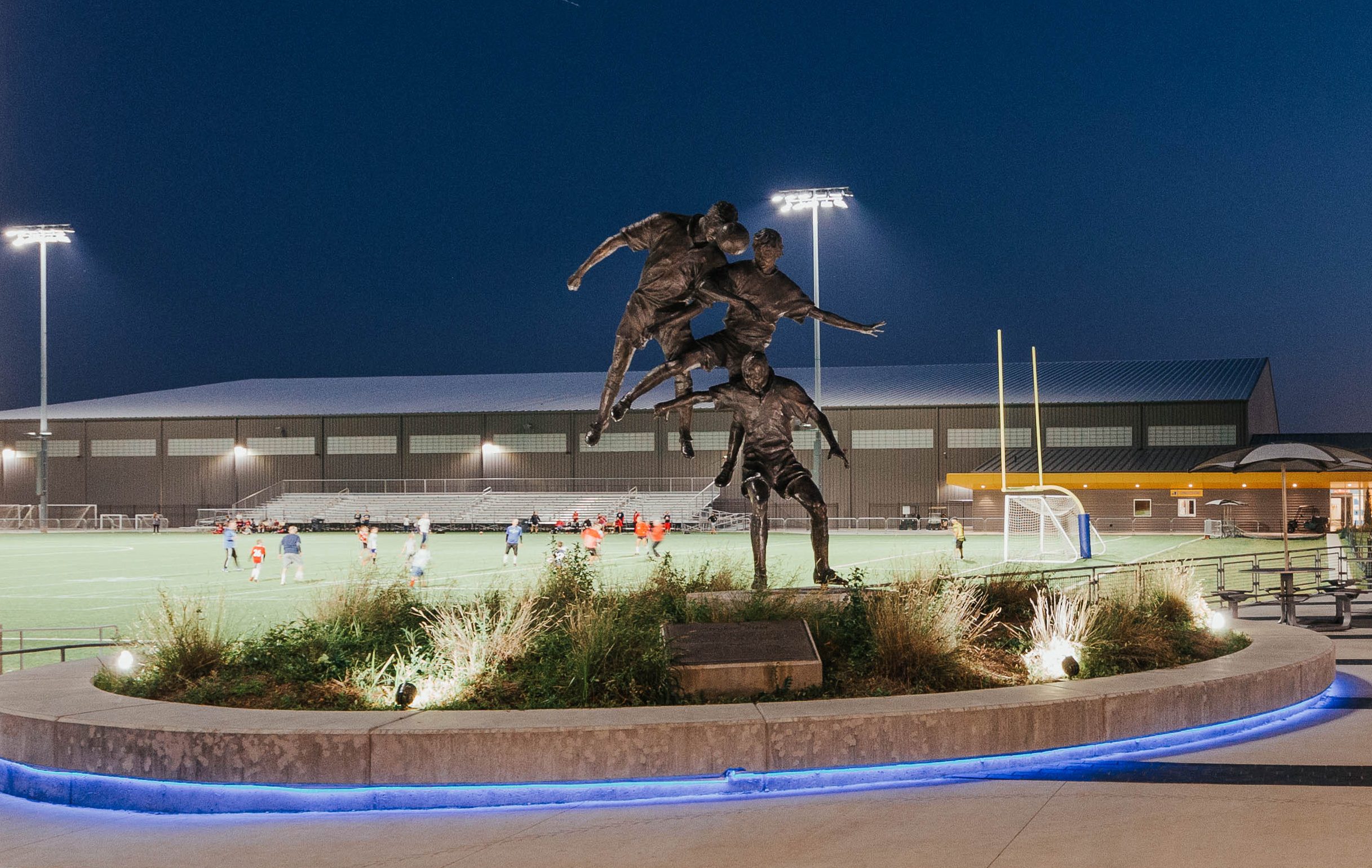 Destination Wichita: Stryker Sports Complex
October 2, 2020
A Big Win for the Community
Wichita is at the center of the nation's flourishing youth sports scene, thanks to the State of Kansas and the City of Wichita's $22 million investment in upgrades to the Stryker Sports Complex near K-96 and Greenwich. MKEC led master planning and design for this exciting project, which serves as a significant economic driver and creates a regional destination for youth soccer. After the grand re-opening in Spring of 2019, boasting 11 all-sports turf fields, each with outdoor lighting, in addition to a new indoor facility, the reimagined Stryker Sports Complex is positioned to attract regional tournaments and tens of thousands of visitors from around the Midwest, bringing in millions of dollars into the local economy.
---
"The collective efforts of the State of Kansas, City of Wichita, MKEC Engineering and our contractor partners helped create a dynamic facility that will benefit the intended users as well as the community for a long time to come. The steering committee and project team developed a strategic schedule to deliver and coordinate multiple concurrent phases and maximized the available funds to provide top-quality enhancements to the complex."

Steve Degenhardt, Construction Division Manager, City of Wichita
---
"Our goal for Stryker was to create a first-class regional destination sports complex for the City of Wichita. I think we accomplished that. MKEC Engineering listened closely and guided us through a valuable design process which resulted in a quality master plan."

Larry D. Hoetmer, PLA, ASLA, Principal Planner/Landscape Architect, City of Wichita
---
Our design, developed on a fast track schedule to meet the City's ambitious timeline, replaced grass fields with artificial turf, and doubled the stadium seating capacity to more than 2,000 at the championship field. New lighting means young athletes experience the thrill of playing under the lights and allows Stryker to host more games than before. To ease parking lot frustrations, fields are arranged in pods with their own lots, and an additional access road provides another option for entry and exit. Colorful new signage simplifies navigation once inside the complex.
---
"A large, colorful entry pylon welcomes players and visitors to the complex. Wayfinding signage guides them quickly and easily to their fields. The lively graphics package injects energy and fun into a sea of green turf and parking lots."

Sonia Greteman, President and Creative Director, Greteman Group
---
A new state-of-the-art 112,000 square foot indoor facility houses one full-size soccer field that can be configured into two multi-sport fields for athletes of all ages, plus locker rooms, an office area, and restrooms. Visitors also enjoy a host of other updated amenities found throughout the complex – including concessions, renovated restrooms, as well as picnic tables and terrace seating for added spectator capacity – that blend seamlessly with the surroundings.
Together with our talented team of partners – DLR Group, GLMV Architecture, GSI Engineering, Dondlinger Construction, Crossland Construction, FSC, Inc., and Greteman Group – we are proud to play a leading role in Wichita's vibrant growth by helping make this "destination complex" a reality.
---
"The complex is serving our community while attracting regional and national events, boosting our local economy. Most unexpected has been gaining recognition from international groups who are taking notice of Stryker's world-class features. Watching the complex attract that kind of interest has been fun. Looking forward to even greater success in the years to come."

Tymber Lee, Managing Member, Stryker Sports Complex
---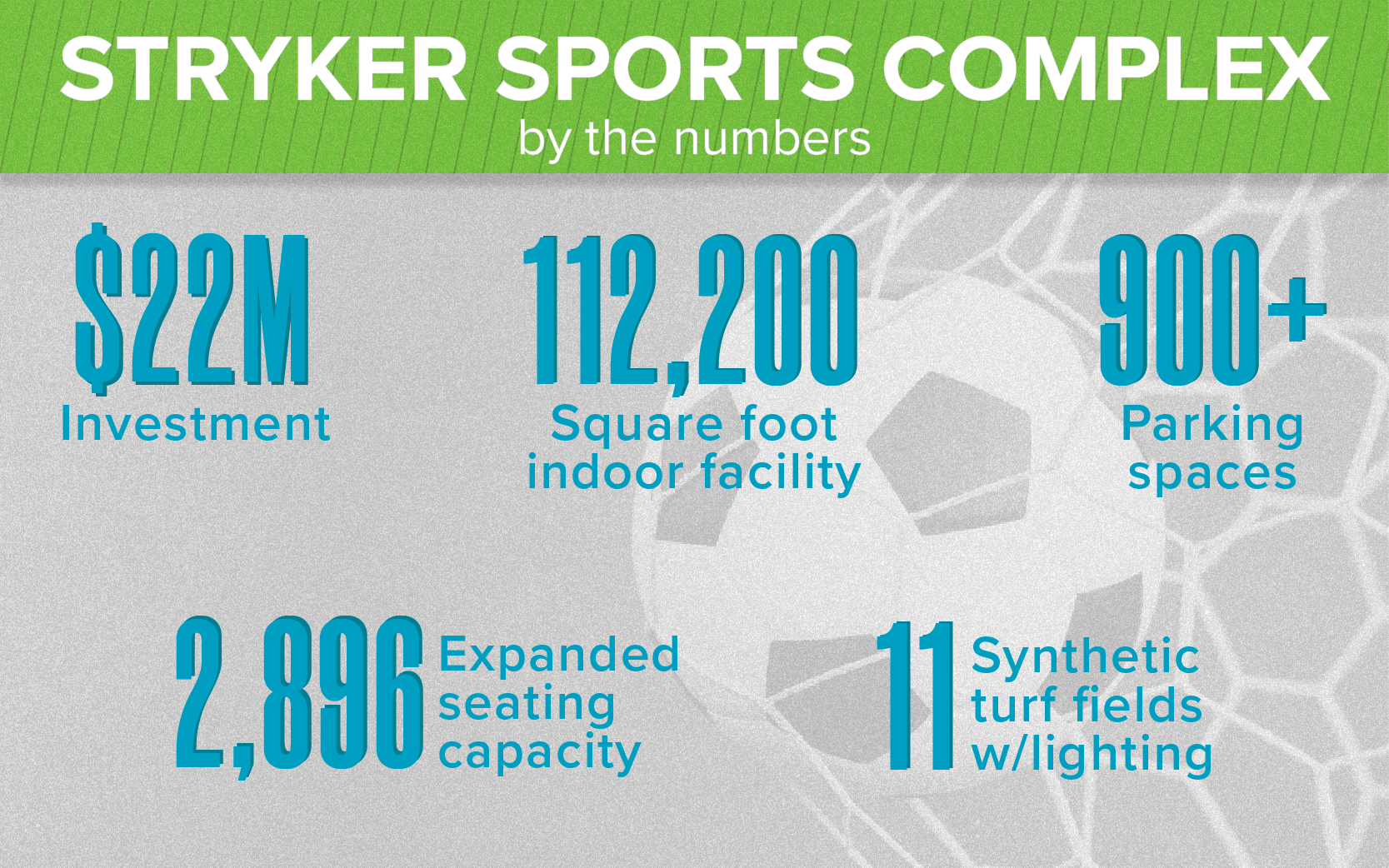 Interested in our multidisciplinary services for your next land development project? Take advantage of our broad base of engineering expertise and deep experience.