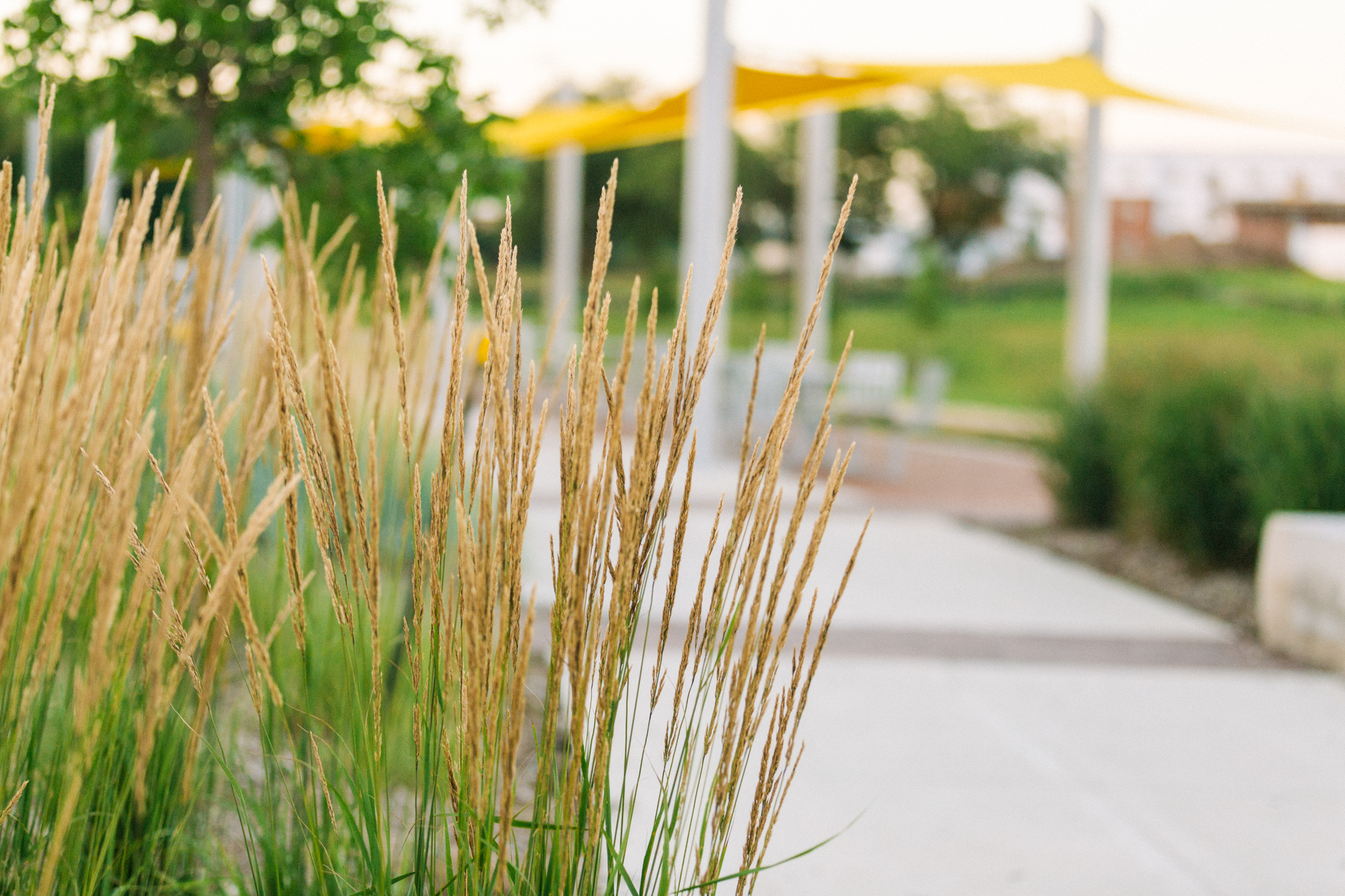 The Great American Prairie Landscape
June 4, 2020
Living along the western edge of the Midwest is challenging for plants. Where else in the country is the weather as temperate? Kansans experience anything but average weather. Some years the weather is mild and wet, other years it's extreme and dry. The temperatures can fluctuate like the graph of a liar's polygraph test.
That's why we've embraced the plants of the American Prairie landscape, introducing native and adaptable plants from our region into our Wichita campus landscape over the years.
Vanishing Prairie
More than 90% of the North American Prairie has been lost to crop farming, forests and suburban sprawl. Much of what's left has been damaged by the introduction of nonnative plants and overgrazing. Because of this, few people today realize what the American Prairie is—let alone are able to identify the hundreds of plants that are native residents.
Although most people equate "prairie" with any unmowed tall grassy area, that's not entirely accurate. Fortunately those of us in the Midwest don't have to travel far to glimpse the prairie in its primitive glory. The Konza Tallgrass Prairie in Manhattan, Kan., preserved for long-term research and conservation, offers hiking trails with incredible views of the native grassland. Or you might be able to observe prairie remnants closer to home by exploring local railroad "rights-of-way" in rural areas.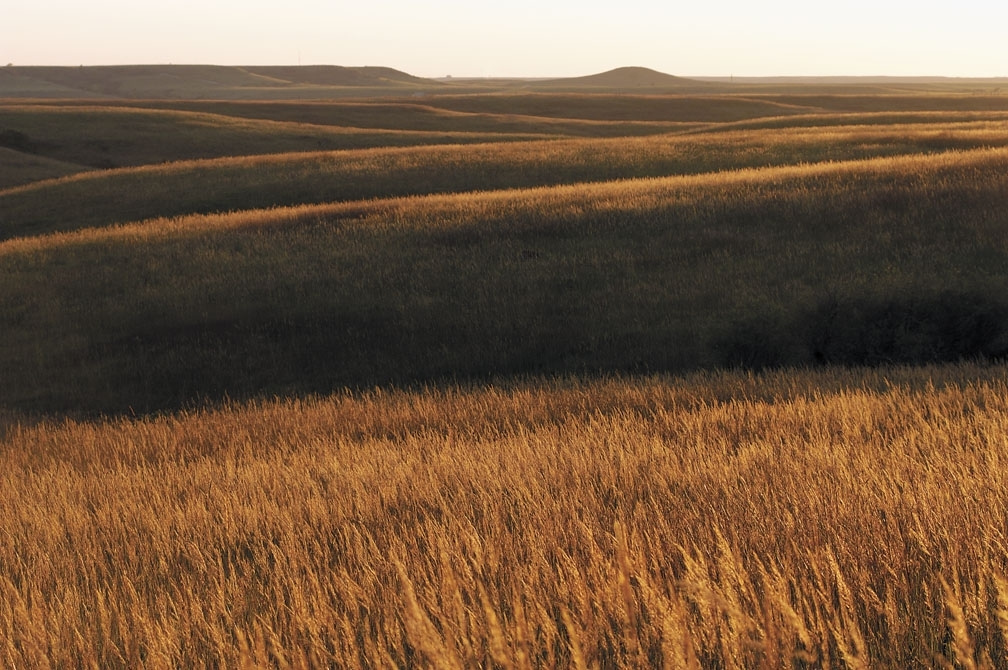 Making A Comeback
Unlike the predominantly European plant species readily available at big box stores and nurseries, it's not as easy to find plants of the American Prairie to use in your personal landscaping. That's largely because the public hasn't demanded them from the horticultural industry; however, perspectives have been changing slowly over the last 20 years. Increasingly, people are learning that using plants that are native to our region are more adaptable and far more resilient than nonnative varieties. Most importantly, these natives are sustainable! Because natives are adapted to our temperate weather patterns, they don't require as much water or fertilizer to look their best as do nonnatives.
Native plants offer a huge benefit to our native pollinators, providing the proper habitat and food source for these insect species and other living creatures. A popular example is the monarch butterfly. Each spring and summer monarchs leave their winter homes in the mountains of Mexico, traveling north through Kansas and up to Canada in search of milkweed—the only plant where female monarchs lay their eggs. Once the eggs hatch, young monarch caterpillars feed on the milkweed's foliage and flowers before maturing and transforming into butterflies. This is just one of many fascinating prairie plant and insect species relationships in our prairie ecosystem.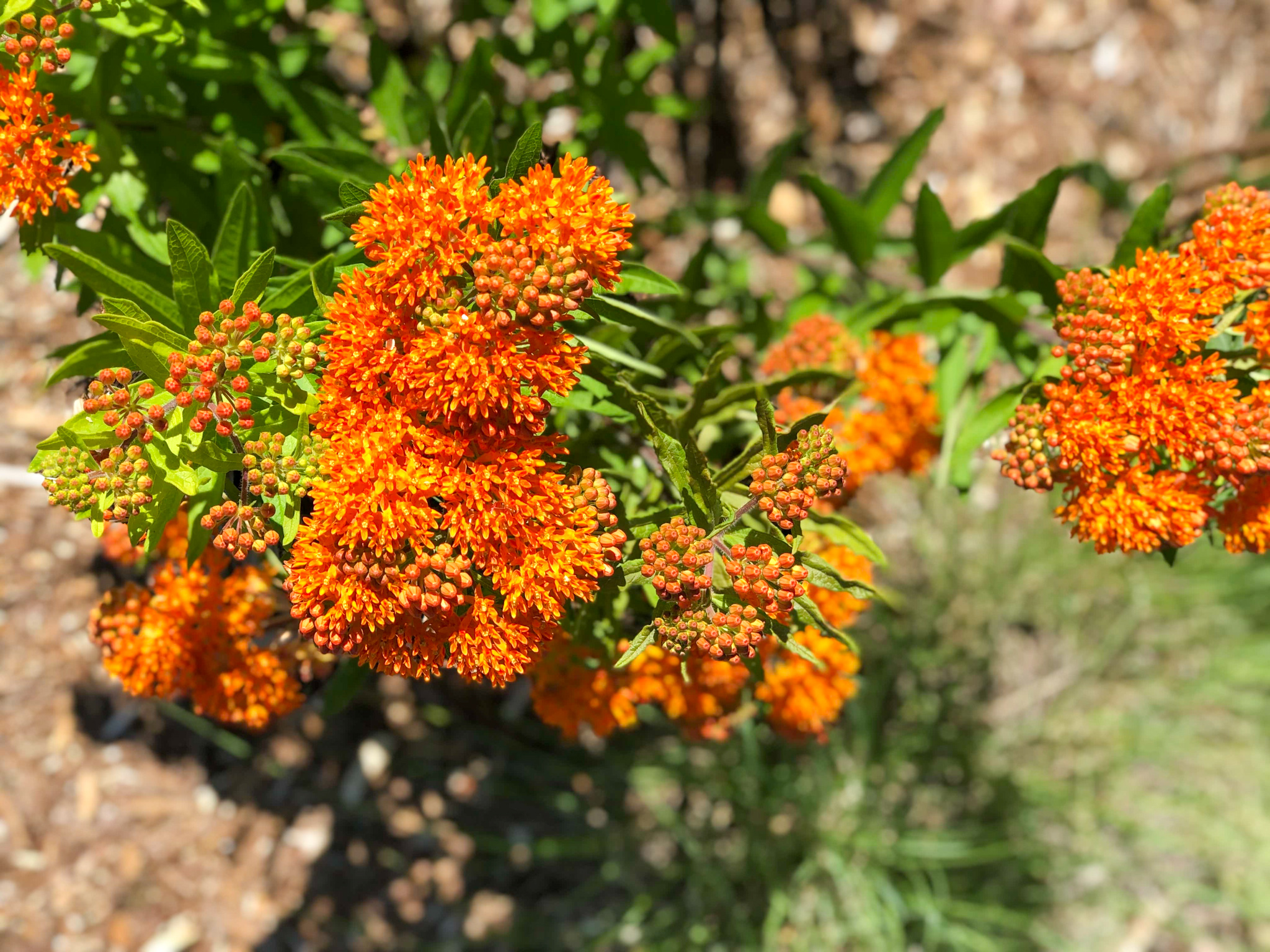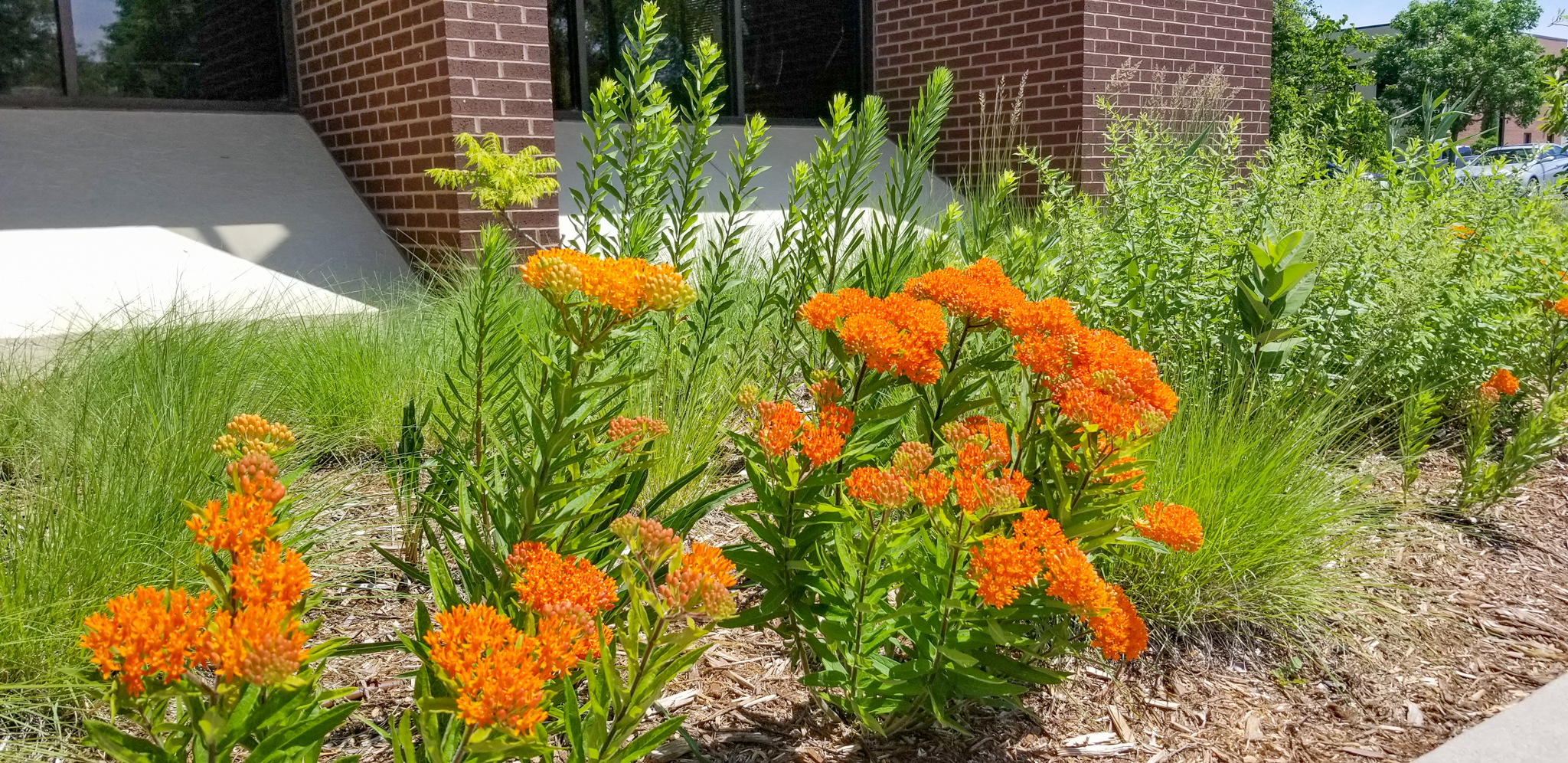 Last but not least, native and adaptable plants are beautiful. They undergo dramatic changes throughout all four seasons. We're encouraged to see so many businesses and public project improvements utilizing sustainable native grasses, perennials and woody plants in their landscapes.
Incorporating Native Prairie Plants Into MKEC's Landscaping
We've incorporated native plants and adaptable plants into a majority of our landscape. In fact, 95% of the ornamental grasses used throughout our Wichita campus are natives. A total of 40 plant species can be seen and are made up by around 10 species of grasses and about 30 species of perennials. And in areas where we have shade or protected microclimates we've used nonnatives like Hosta and Coral Bells.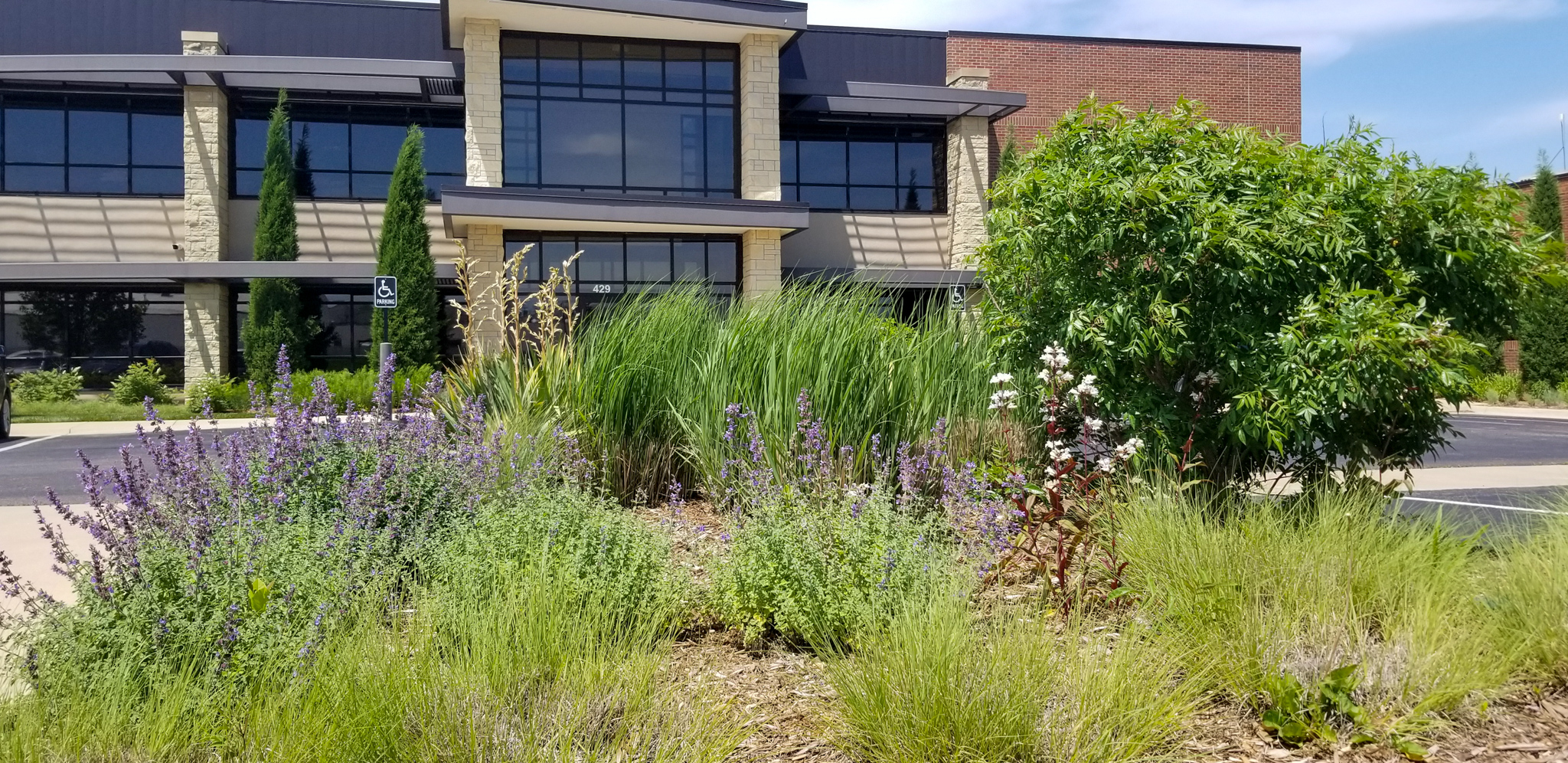 Native Approach For Our Clients
We not only embrace this native approach for our campus, but we utilize this to deliver beautiful projects for our clients. We fully believe in the value and sustainability of native plants and incorporate it into our client's designs. This holistic approach brings diversity to the landscaping and invests in the future of our region. The pictures below represent some uses of native plants in beautifying various types of landscapes for our clients.
How To Get Started
Interested in incorporating native landscaping around your home or business? Check out the resources below, and happy planting!
We look for every opportunity to utilize native and natural landscaping into our land development projects. Take a look at some of our other projects where this is featured.