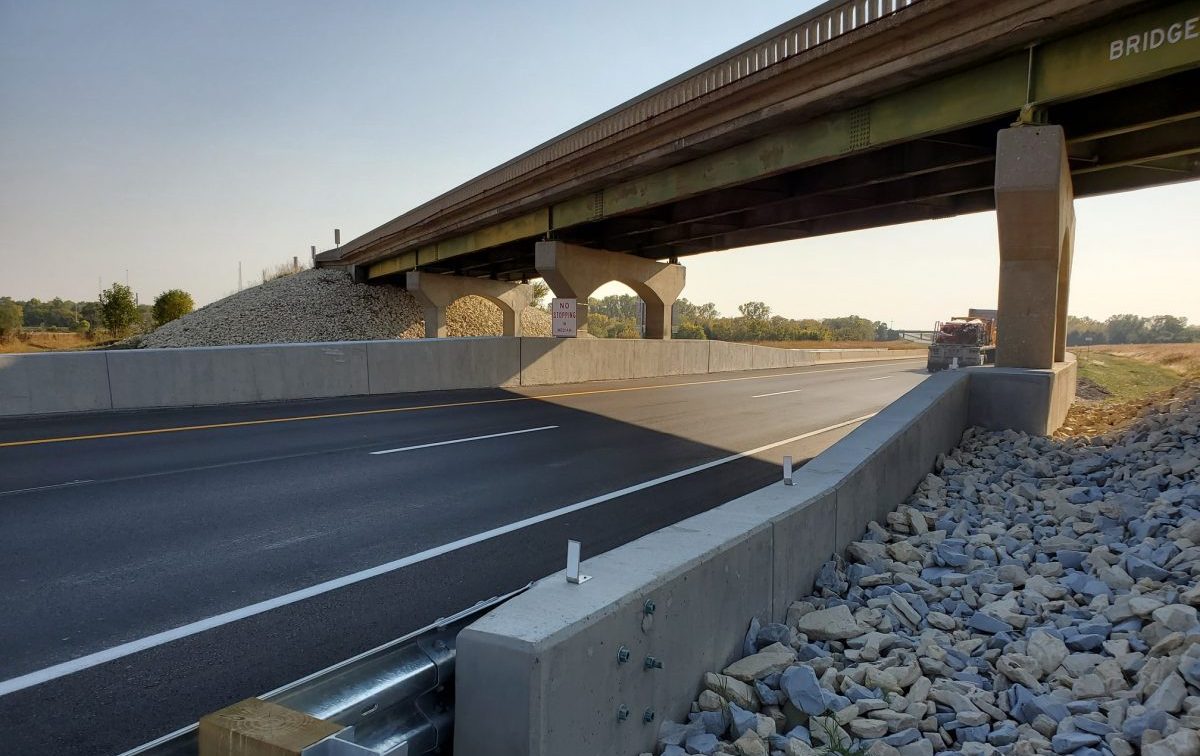 Transportation Project Success Relies on Strong Relationships
November 16, 2020
In the 2003-04 NBA season, everyone thought the Los Angeles Lakers would win it all. They had a slew of star names: Shaquille O'Neal, Kobe Bryant, Karl Malone and Gary Payton. They were coached by the best in the business, Phil Jackson. But that team failed to win the championship because the team was a drama-filled mess. Their broken relationships destroyed what, on paper, looked like a dream season. Even the best talent in the world can't overcome bad relationships.
Engineering projects require teamwork. Relationships matter. The ability to work together as a team to complete large, expensive projects is pivotal to a project's success, and many times that team is made up of people from different agencies and engineering firms. Working together to create the best project possible is the goal. Relationships are the key.
Great relationships lead to great success
Our strong relationship with the Oklahoma Department of Transportation has led to a variety of successful projects, including a project on a seven-mile stretch of U.S. 59 in Adair County.
This project includes seven miles of 3R design widening and overlay with four miles of passing lanes and detour shoofly's with bridge replacements. We worked closely with ODOT to avoid costly relocation of gas lines and a number of property impacts. Our design also includes nine vertical curve corrections, additional turning movements and traffic signals along a one-mile stretch of urban highway.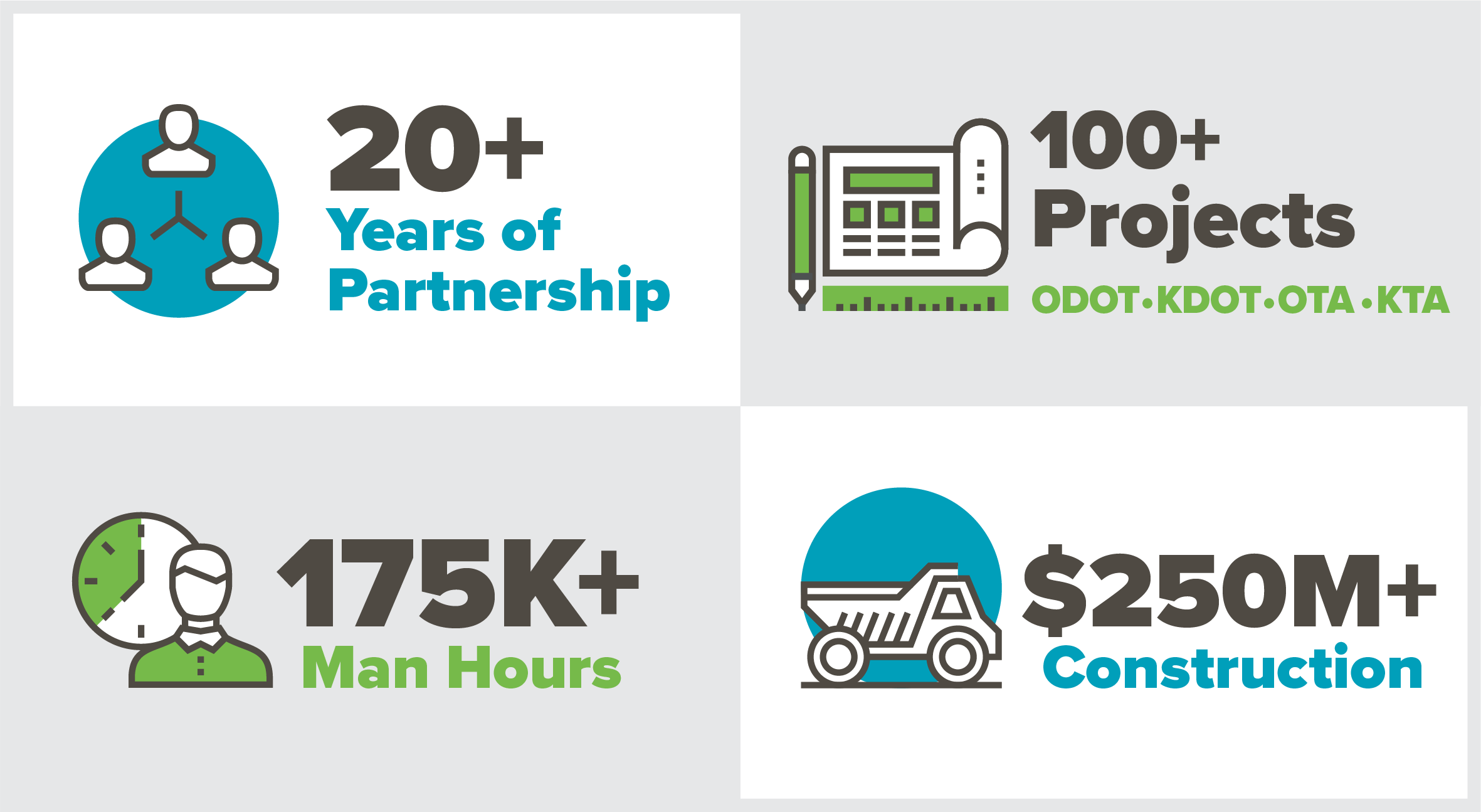 MKEC's Transportation Manager, Greg Sparks, PE, says a key to working well together is providing options to their partners and being open minded of possible solutions. "We approach each and every project individually. By assessing the challenge at hand, we can present unique solutions that fit within the client's needs." MKEC doesn't force the client to accept a particular option if the project doesn't call for it.
This approach was evident in our design of the new Kickapoo Turnpike, a $65M project to design a four-mile section of four-lane divided interstate, including two interchanges and nine bridges including one over a FEMA Zone AE floodplain and regulatory floodway. We worked closely with the Oklahoma Turnpike Authority to minimize right of way impacts along the new turnpike while accounting for a possible future frontage road in select locations within our corridor. Our design included modeling the future frontage road in conjunction with the design of the mainline alignment, thereby limiting future utility and right of way impacts.
Ongoing relationships make everyone better
In 2019 an existing relationship with the Kansas Turnpike Authority led to interchange design projects at the I -35 junction with US-77 near El Dorado and at the I-35 junction with K-177 near Cassoday. The project, which included guardrails, pier protection and ramp alignment began in October of that year. "We turned the project around by the end of the year," says MKEC's Jay Anglemyer, PE, Civil Engineer, Principal.
Putting the effort into maintaining relationships when there isn't a project to work on can be important to a later project's success. That's why Anglemyer serves on committees with the City of Wichita to offer expertise and support.
---
"It's important to establish that relationship, but also maintain it especially in between projects. Ultimately, we want to help our clients however we can"

Jay Anglemyer, PE, Civil Engineer, Principal
---
Strengthen relationships by going the extra mile
With often shrinking Department of Transportation and Turnpike budgets, states are having to do more with less. We know that bringing cost savings and innovative ideas to the table is an important part of our relationships with state DOTs.
Anglemyer touts the firm's ability to stay within the budget by thinking outside the box when it comes to design. "It's a habit for us as a firm to approach a project and look at it and say, 'What's the best way to do this?' We're not going to have you spend any more money than you need to." Being a good steward of the taxpayer's dollars funding these projects is critical.
Each project is designed with the budget and safety of the public in mind. Several successful projects we've completed needed alterations to avoid impacting environmental and housing features such as working around streams, hillsides, historical sites, housing developments, and easements.
Understanding the strengths and limitations of partnering agencies and being willing to go the extra mile when designing and implementing projects helps to make relationships with our clients stronger. "We recognize we're an extension of their staff," Anglemyer says.
At MKEC, we strive for excellence in everything we do.
---
"Any time we get a project, it's got to be better than anyone else, that's what Engineering Success is all about."

Greg Sparks, PE, CFM, Civil Engineer, Transportation Manager
---
No matter the project, strong relationships put everyone involved on the path to success. From large highway projects to smaller municipal ones, MKEC wants to be on your team.
Want to see how strong relationships resulted in innovative solutions for other transportation projects?