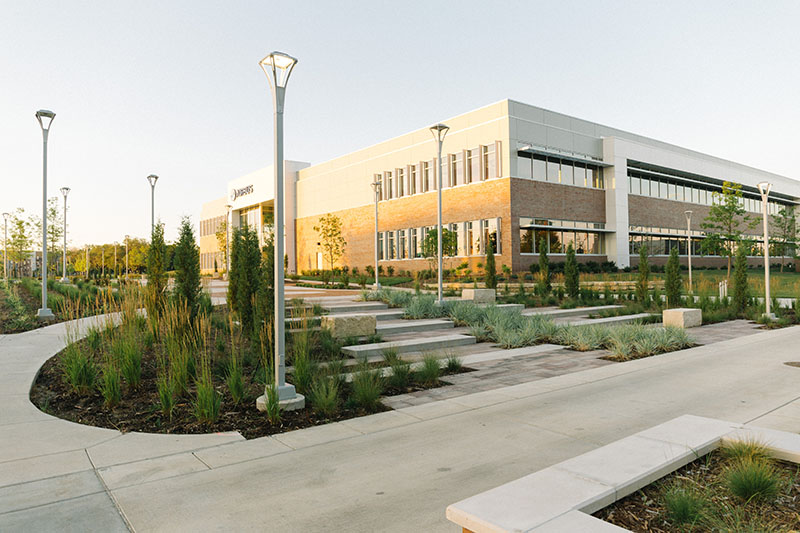 Wichita State's Innovation Campus blends practical with beautiful
April 13, 2018
WSU Innovation Campus
Engineering Challenges
Wichita State University's ambitious Innovation Campus transformed a 125-acre golf course into an interconnected community of buildings, commercial operations and mixed-use areas on the university grounds. Creative design solutions were essential to connect all of the elements of the Campus. Acres of start-from-scratch infrastructure were needed, including campus lighting, water and other utilities below ground, and aesthetically-pleasing and practical landscaping and hardscaping above ground. Traffic patterns were studied and planned for, taking into account passenger and emergency vehicles, without sacrificing the necessary pedestrian and bicycle use.
Engineering Success
Since the university's purchase of the land decades ago, it had always been a potential location for campus expansion. Our team met with the university, city officials and planners and helped facilitate meetings with neighbors to the project, assuring them that their interests would be considered.
The continuity of our site/civil elements are evident throughout the campus. The boulevards, streets and pedestrian malls provide circulation allowing people and vehicles to move efficiently throughout the Innovation Campus. Each of these transportation modes are seamlessly interwoven with generous landscape, unique hardscapes and the use of landforms. Modern flood-control methods built on-site drainage ponds that beautify the space, while fully lit pedestrian walkways pave the way. Together these elements create a fluid aesthetic fabric for placemaking and innovation to occur.
Working with building designers, we created an artistic landscape that seamlessly integrates with the functional underlying engineering of the complete project. Hardscaping and landscaping elements can be enjoyed from the Starbucks patio to walking along the East Mall towards the Experiential Engineering Building. Their placement and selection strategically create a cohesive design with the current elements throughout the main campus.
Lighting, hardscape and site furnishings were purposefully selected and installed, setting new campus standards. Good communication during project design and construction with Wichita State, City of Wichita and other design professionals ensured the Innovation Campus met the overall goals and allows both students and community members to celebrate and utilize the resources the university has to offer.